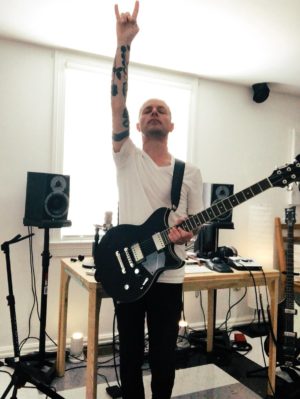 Phillip Luke Sinitiere
The rise of the nones, or the religiously unaffiliated, has consistently been a top news story for the past decade or more. Recent publications by the Pew Research Center and the Public Religion Research Institute document the steady rise of nones who now constitute over 25% of the U.S. adult population. Rejection of an inherited religious tradition from childhood, the democratization of knowledge, shifting opinions about the viability of institutions, and the spectacle of religious scandal are some of the reasons scholars cite for the increase of those religiously unaffiliated. Furthermore, as Chrissy Stroop and Lauren O'Neal's Empty the Pews: Stories of Leaving the Church persuasively shows, authoritarian religious leaders and oppressive spiritual structures that demand social conformity create religious trauma, something exvangelicals describe, former evangelicals who comprise one category of nones.   
Some scholars studying America's changing religious landscape of nones offer quantitative assessments of fluctuating voting patterns. Other experts identify religious shifts determined by generational change. Popular culture provides another space to examine the ways in which nones cultivate an identity unbound by religious affiliation through aesthetics and art. I'm interested specifically in how music unveils dimensions of what scholar Elizabeth Drescher terms "the spiritual lives of America's nones." The particular aesthetic expression of popular culture this essay examines is the folk music of Nashville-based singer-songwriter Derek Webb. It uses his new record Targets as a lens through which to explore deconversion expressed musically, in other words what unbelief sounds like.
As an artistic artifact Targets is an album of reclamation and rediscovery. Through 37 minutes across nine tracks Webb offers thrashing guitars and pounding bass drums to document his new sense of self after leaving evangelical Christianity.
A brief historical tour of his musical career and the politics of his art will set the stage for a fuller understanding of Targets' significance.
Webb is an independent folk musician with over a dozen records to date. His musical career began in early 1990s as an original member of the Houston band Caedmon's Call. His solo career started in 2003 with She Must and Shall Go Free, followed by: I See Things Upside Down (2004), Mockingbird (2005), The Ringing Bell (2007), Stockholm Syndrome (2009), Feedback (2011), Ctrl (2012), I Was Wrong, I'm Sorry, and I Love You (2013), Fingers Crossed (2017), and now Targets. In addition to making a few EPs and specialty recordings, Webb also recently created several unique anniversary projects, including last fall a series of commemorative concerts for his 2009 album, Stockholm Syndrome: 10 Year Anniversary Tour.
The subject of Webb's music as a solo artist centers upon Christianity—specifically American evangelicalism—and the countless range of subjects with which the movement intersects such as the Bible, religious practice, belief, sexuality, race, politics, gender, class, Jesus Christ, certitude, and power, among others. As a result, critics and observers have defined him as a Christian artist based on music industry categorizations. Such a designation stemmed from the religious dimension of his songwriting in Caedmon's. Yet, he has long argued that such labels curb creativity and commodify faith instead of attempting to thoughtfully unsettle a faith tradition's status quo. Webb insists that creative autobiographical singing and songwriting should reflect the nuances, contradictions, paradoxes, and complexities of everyday life.
"I'm contrary and I like subverting things and I like causing people to look at things a different way," he states, "the job of an artist is to look at the world and describe it." A musical artist's job to describe the world entails a performative analysis of some subject or topic—in this case American evangelicalism.
Over many years this artistic position shaped the targets of much of Webb's music: the prosperity gospel; evangelical culture and the commodification of religion; the culture wars; homophobia; whiteness; religious hypocrisy; and racism. Yet his art has not been reactive. Its critical edge possesses aspirational dimensions through its invocation of what could be, of what is possible. Consequently, his art has over time served as a flashpoint that elicits both congratulation and condemnation from music critics and evangelicals alike.
If folk music historically has been an artform of creative social critique, then analysis of Webb's musical art and artistic production more generally can serve as a collective lens through which to peer into the complex threads of contemporary religion, culture, and politics in the United States. His songs and art, like folk musicians before him, categorically rejects easy answers to multifaceted questions. It makes space for generative conversations that need marination.
"I'm old school in that I write in the album format," Webb observes. "I don't write songs that belong on their own. . . They all work together. They all tell parts of each other, and if you listen to one song it may not tell the whole story, but put them together you'll get the whole story." 
Long considered a politically progressive artist associated with the evangelical left, Webb announced with his 2017 record Fingers Crossed that he no longer identified as a Christian. A bare-chested Webb making the fingers crossed sign with his left hand on the album's cover symbolized the vulnerability of the record's narrative message. His closed eyes reflected either a meditative moment of introspection or one last attempt at praying to grab God's attention—or both.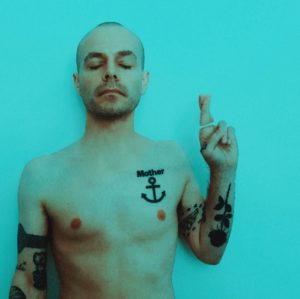 Source: https://twitter.com/derekwebb/status/1035575421700657152
In interviews he used the word "divorce" to describe the tales of separation the album contained. In 2014 his marriage to singer-songwriter Sandra McCracken ended, a reality he owned publicly at the time in a jointly issued statement with his ex-wife. The raw immediacy of songs "The Devil You Know" and "Love is Not a Choice" reflected on this definitive change for Webb. Subsequently he reassessed other anchors of identity that had previously infused his life with meaning. Webb's wrestling with grief led to relinquishing the Calvinist theological paradigm that once provided the lens through which he viewed life. In songs like "Easter Eggs," "Chasing Empty Mangers," and "Fingers Crossed" he artfully unspools the tightly wound Calvinist paradox of how divine transcendence and predestination somehow mysteriously coexist alongside of human freedom. Webb revealed that his belief in an invisible, transcendent deity who orchestrates and upholds the universe no longer made sense. "Oh God what have I done/without your great permission/knowing fully of the end at the start/like a dirty god**** trick/I either sin as I resist you/or I do it as I'm doing my part," he sings on "Chasing Empty Mangers." 
Elsewhere on Fingers Crossed he reveals that an aching silence met his pleas for divine assistance. He describes an anguished, unbridgeable disconnection that now exists between himself and a personal savior on whom he formerly externalized his hope and longing. On the album's final song "Goodbye, for Now" he states, "So either you aren't real/or I am just not chosen/maybe now I'll never know/either way, my heart is broken."  
A tandem podcast he created for Fingers Crossed in late 2017 called The Airing of Grief featured additional details about his new identity as a none, or someone without a religious affiliation. In conversational and communal spaces beyond evangelicalism, increasingly represented in podcasts such as Heathen, The Life After, and Exvangelical, Webb engaged with the exvangelical movement.
If Fingers Crossed is ultimately about absence and the existential disorientation associated with it, then Targets is an affirmation of rediscovery, a statement of reclamation. Recently, Webb called it "a record of reconstruction."
Source: https://twitter.com/derekwebb/status/1066207311864242178
The album cover readily communicates this sentiment. He purchased a painting from Massachusetts artist Jim DuBois that featured what Webb called a "high energy" orange and yellow combination of a drip-style circular target. Webb found in the abstractly rendered target an image that communicated a sense of redirection. He said that the dots on the target's perimeter symbolize "the building blocks" of a new identity, a new way of seeing the world. To his eye, the painting displayed a visuality of movement, something that fit the kind of music he made and the ideas central to the new record.
"Targets is a defiantly joyous rock-n-roll album about love and unbelief," Webb said in an online listening party to celebrate the record's release. "It is an album about me finding everything I lost on Fingers Crossed." For instance, he found love again. Webb got married last October, a new disposition songs like "Valentine's Day," "The Safest Place," and "Plain Sight" document. His partner Abbie Parker, a member of the band I AM THEY, sings on these tracks as well.
And while Webb did not rediscover God—which he says doesn't mean he hasn't stopped looking—Targets is an artistic statement that emphasizes human accountability to itself instead of ascribing personal responsibility to something external. The album's narrative arc presents a materialist-oriented ethics of social engagement and loving solidarity for the purpose of facilitating community. It is a rock-n-roll record of Derek Webb beyond belief.
There are figurative and literal connections between Fingers Crossed and Targets. For example, Targets begins sonically by playing the last portion of "Goodbye, for Now" backwards before an energetic electric guitar opens the album's title track.
On "State Change," which serves as Targets' thesis statement, Webb explains that the new record will "rewrite the pain" of Fingers Crossed. The literary reference here performs double duty because the record is about a reclamation of identity through the repurposing of language—a rhetorical reversal—specifically the religious discourse that he formerly deployed across many albums as an evangelical Christian. "You change up the words and you change the verse/You got the hammer and nails and there is no curse," he belts out on "State Change." Later in the song he finds how being present in the moment, not speculating about the divine meaning behind life's ordinary events, leads to "a new day" and "time to renew my mind." Yet a punk ethic accompanies Webb's rock-n-roll announcement about the transformation of his newfound humanist-oriented state of being: "Cancel all my reservations I'm playing this by ear/on a higher frequency so that everyone can hear/I'm bringing everything with me that doesn't weigh me down/finally someone's listening. . . oh, can you hear the sound of state change?"
Although Webb now inhabits a life without religion, a primary aesthetic obsession of his remains American evangelical Christianity, a subject that is squarely in Targets' crosshairs. For example, God is a subject on the signature track "Targets." He states, "You were the aim but you're not the source/you don't get it all in the divorce/You can't bear the weight of all my love/Sweet ricochet of my own voice from above."
Webb's song "Good Grief" communicates a kind of secular redemption that explores the repurposing of pain ("It wasn't wasted time, not a wasted dime or a tear/It's such a sweet relief, such a good, good grief to get here"). The music video filmed in his home studio has opening and closing shots of a drapeless window with the sun brightly beaming through. The light symbolizes the song's message of recovery and reclamation. "Good Grief" articulates that Webb is ultimately responsible for his own actions. He now makes sense of his own existence through intrinsic, not extrinsic, tools of meaning, and he's bound to himself and to other humans instead of a distant deity. He sings that there are "No hills on which to die, no reason and no rhyme/just chaos coming down and the meaning we assign/and that's not nothing, oh it's kind of everything."
On a snare-infused track titled "All of Me is Here" Webb asks his former religious comrades, "Do you remember when we used to sing about Ba'al and Zeus?" and then replies resolutely, "See we're all atheists I just go one god further than you." Thereafter he repurposes both language and stories from the Bible that evangelicals will recognize. "Don't flip the narrative with the ease of a needless yoke," he proclaims in reference to Jesus' words about the potential personal cost of religious devotion. Webb then turns to metaphorical language to comment on the concept of original sin, a cardinal belief in the Calvinist theological system: "You don't need debt relief, unless someone convinces you that you're broke."
As a record of unbelief and a commentary of humanist reclamation, in one sense Targets is an entirely new intervention in Webb's discography given his career-long emphasis on cultivting meaning based on an evangelical point of view. In another sense, Targets fits squarely within his artistic timeline because true to form it is an album on which Webb describes the world as he sees it.
Yet if we attend to the larger historical context in which Fingers Crossed and Targets appeared, both records animate what I call the social sounds of American exvangelicalism. Webb's latest music presents artistic examples of what deconversion, and now reconstruction, sound like. He is of course not the first or the only folk artist to create a soundtrack about the loss of religion, to which decades of music history attest. For example, Webb has previously cited the work of Seattle rocker (and Pedro the Lion lead singer) David Bazan, especially his records Curse Your Branches (2009) and Strange Negotiations (2011). Another recent self-identified exvangelical artist is the Dallas rapper Nightlightr, who's bars and beats about unbelief similarly unveil stories about both alienation and affirmation.
For scholars and interested observers of American religious trends, the increasing rise of nones requires deeper analysis. The intersection of folk music, religion, and historical change reveals that the sonic landscape of musicians and artists, especially exvangelical artists, is a rich cultural site from which to further probe what it means in American society to live beyond belief. As Webb's song "State Change" asks: "can you hear the sound?" 
Phillip Luke Sinitiere is a Scholar in Residence at the W. E. B. Du Bois Center at the University of Massachusetts Amherst and teaches history and humanities at the College of Biblical Studies, a predominately African American school in Houston. As scholar of African American Studies and American religious history, his writing covers topics ranging from W.E.B. Du Bois to the prosperity gospel, including two recent books: Salvation with a Smile: Joel Osteen, Lakewood Church, and American Christianity (NYU Press, 2015), and Citizen of the World: The Late Career and Legacy of W. E. B. Du Bois (Northwestern University Press, 2019).