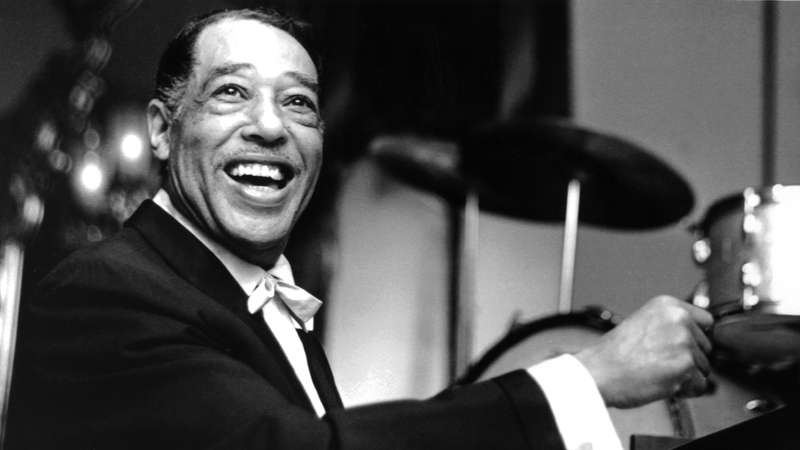 Vaughn A. Booker
This excerpt is from the book's ninth chapter, which examines the reverence for departed jazz musicians and the practices of fellow musicians, creative artists, institutions, and the public to celebrate their memory in the late twentieth and early twenty-first centuries. The chapter centers practices of celebrating and memorializing Duke Ellington, Ella Fitzgerald, and Mary Lou Williams. Because of the United States' cultural purchase on jazz as a distinctive national art form, the professional music industry, academia, and those who celebrate African Americans in the arts have bolstered the effort to safeguard jazz as both America's classical music and a living art form. Musicians and fans worldwide have celebrated these jazz professionals since their passing, creating musical works, artistic testaments, research institutions, and landscapes both physical and virtual that mark practices of venerating prominent African Americans with spiritual and religious significance. As the chapter details, among African American celebrants, the creative works of many African American women produce a significant record of religious and spiritual interpretations of jazz virtuosity.
*Reprinted from Lift Every Voice and Swing: Black Musicians and Religious Culture in the Jazz Century by Vaughn A. Booker with permission from New York University Press. Copyright New York University Press 2020 and published by New York University Press (www.nyupress.org). All rights reserved.
---
In 2014 the Associated Press reported that the Bronx's Woodlawn Cemetery, home to the graves of Edward Kennedy "Duke" Ellington, Miles Davis, Lionel Hampton, Illinois Jacquet, and others in a section named "Jazz Corner," was preparing to develop about 2,275 new burial plots to accommodate the demand of many "jazz enthusiasts" to have their remains interred near the musicians they revered. Additionally, the complex contained a newly constructed mausoleum, capable of holding 275 sets of remains for $6,000 per plot, with four additional smaller buildings to be constructed later. Pauline Smith, then seventy-four, an "avid jazz lover" who regularly hosted parties in her home with hired jazz musicians as the entertainment, had purchased her burial plot in 2011. Smith declared, "The music is in the earth and in the air and in the heavens. . . . I love the idea that I could be continuing my love on the other side."1 This gesture of burial near the remains of prominent jazz musicians echoes practices of burial near an individual's ancestors or within more immediate family burial plots.
On May 24, 2014, forty years after Ellington's death, Jazz at Lincoln Center All-Stars musicians gathered at Ellington's grave to celebrate the composer's life. Mercedes Ellington (b. 1939) placed a wreath at her grandfather's grave, marked with two giant crosses as Ellington family headstones. Trombonist Arthur Baron, trumpeter James Zollar, clarinetist Mark Gross, and bassist Jennifer Vincent played Ellington's jazz standard "Mood Indigo" and Billy Strayhorn's "Take the 'A' Train" for a small audience that included photographers and attendees who recorded the performance on their cell phones (video 1 and video 2). 2 Kenny Agosto, the Bronx's leader of the 80th Assembly District, presented Mercedes Ellington with a proclamation recognizing the fortieth anniversary celebration of Duke Ellington. For Ellington family members, and for jazz musicians who worked in the Ellington orchestra or in "Ellingtonian" musical traditions, Woodlawn's Jazz Corner has become a sacred site for marking annually Ellington's physical departure.
The jazz community that heralds its prominent members, who are now its ancestors, proclaims the importance of memorializing these musicians, of continuing to perform their music, and of inheriting the improvisational spirit to interpret their works according to the religious and spiritual locations of the reverential performers themselves. African American religious practices of celebrating Duke Ellington, for example, chart the new lives—or afterlives—that these deceased musicians gain from those left to interpret their legacies anew. With the rise of African American celebrity culture in the early twentieth century came the emergence of African American celebrity funerals, born from the black funeral industry that sought to publicize prominent race representatives in the arts like James Reese Europe, Chick Webb, and Mahalia Jackson. Duke Ellington enjoyed a stately funeral celebration at New York City's Cathedral of St. John the Divine in 1974. This Episcopal church hosted more than twelve thousand attendants, and the service included musical tributes from Ella Fitzgerald, Mary Lou Williams, and other peers in Ellington's profession.3
The Duke Ellington and Ruth Ellington collections reside at the Smithsonian's National Museum of American History (NMAH) in Washington, D.C. When curating showcases of individual musicians for educational events, jazz archives often display deceased musicians' articles of clothing alongside their personal instruments and representative performing microphones and stands, albeit within protected glass display cases to prevent physical handling or theft. Jazz archives are more than repositories for paper ephemera. Akin to the preservation and occasional public displays of relics, they often bear an institution's or music collective's appreciation for items that departed jazz artists owned and handled daily. When not on display, Ellington's Bibles and religious materials reside in the archives of the NMAH. The institutional guidelines for scholars to examine these materials effectively amount to requiring a standard of ritual purity and propriety of the researcher within a space deemed sacred. The NMAH's archival hangars have no Internet or cellular service, no permitted food and drinks, restrictions on which electronic devices are acceptable to record one's archival findings, and minimal verbal
communication that reflects the standards of a reading library. Access to photos of Ellington in his Sacred Concert performances, which his sister Ruth both collected and donated, required not only specific handling instructions (the use of plastic gloves) but also direct supervision by archivists. Aside from prohibiting flash photography, which causes archival documents to fade over time, archivists work to ensure that researchers do not mishandle materials, resulting in smudged, creased, or torn pages or photographs. I witnessed one archivist caution another researcher that careless mishandling would result in the removal of the materials that this person was studying. And in the effort to delay deterioration, these low-lit, enclosed hangars afford materials protection from natural sunlight and air. These protective regulations and practices of supervision reveal the preservation of jazz materials to be a mission to guard the belongings of these prominent African American virtuosos to sustain the national memory of their professional work and personal lives.
Musicians visit the NMAH jazz archives for performance material as well. In preparing her debut album, which was a tribute to Ellington, African American vocalist Candice Hoyes "trolled the Smithsonian's archives for months looking for the perfect songs, many of which hadn't been recorded since the early twentieth century." 4 On a Turquoise Cloud, Hoyes's 2015 album, represented the opera and jazz vocalist's work to compose lyrics and vocal improvisations for several wordless Ellington song arrangements. On her archival research trips, Hoyes conveyed a sense of calling to examine Ellington's materials and revive some of his less popular music:
"It was an amazing experience to go through boxes at the Smithsonian, touching
the yellow paper that the songs were written on. I found stamps, names, hotel phone numbers, addresses of churches scribbled in. That was, to me, the spirit of Ellington telling me there was a lot of life in these songs and I need to bring it out."5
The album included her performance of staples of Ellington's sacred repertoire, including "Come Sunday," "Heaven," and "Almighty God," the two latter songs suited for Hoyes's mezzo-soprano voice just as they were for Alice Babs. Hoyes concluded her debut album with "Thank You for Everything," a lyrical tribute to Ellington set to the tune of Billy Strayhorn's "Lotus Blossom."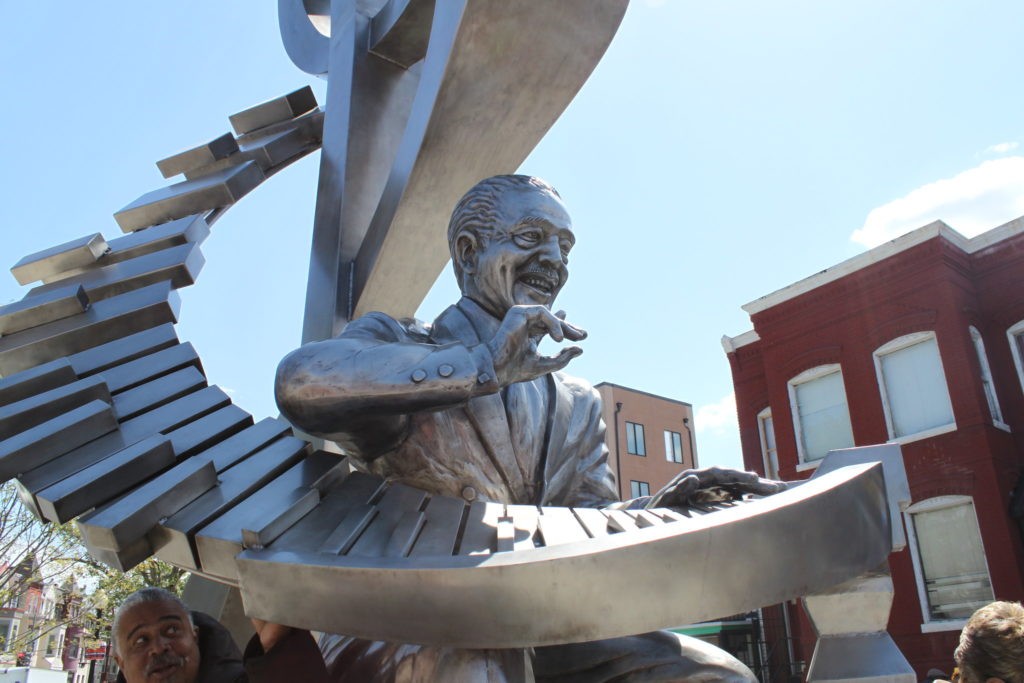 Establishing educational institutions like the Duke Ellington School of the Arts in Washington, DC in 1974 serves as an example of hometown veneration for departed jazz professionals. Annual jazz festivals named to honor prominent musicians mark the lasting contributions of these artists to their professions. Since 1996, New York City's Jazz at Lincoln Center (JALC) has hosted Essentially Ellington, an annual festival and competition for high school jazz bands across the United States. For Ellington's centennial celebration in JALC's 1999–2000 season, approximately seven hundred high schools that participated in the Essentially Ellington competition received transcriptions of his music.6 Beyond educational institutions, performance spaces, and jazz festivals, the visible practices of monumentalizing jazz have also included constructions of sculptures of specific musicians. Like religious and governmental figures who have been celebrated in visual art, prominent jazz musicians have had their likenesses immortalized in public spaces. These monuments create occasions for pedestrians and tourists to pause before visages of African American lives that local, national, and international communities have deemed significant. Art historian Kymberly Pinder quotes African American sculptor Richard Hunt (b. 1935) on the social significance of such three-dimensional, representational art: "Public sculpture responds to the dynamics of a community, or of those in it, who have a use for sculpture. It is this aspect of use, of utility, that gives public sculpture its vital and lively place in the public mind."7 The Frawley traffic circle, located at Fifth Avenue and 110th Street in New York City's Central Park, was renamed Duke Ellington Circle in 1995 in anticipation of a monument to the composer.
In July 1997, sculptor Robert Graham's twenty-five-foot-tall Duke Ellington Memorial was unveiled in the center of the Duke Ellington Circle's shallow amphitheater, presenting Ellington as a guardian marking Harlem's black space and historic past. The New York Times described the imposing statue in anticipation of its unveiling: "Standing on each pillar are three nude female figures, nine in all—the Muses, with their arms outstretched, supporting a disk atop which are a bronze piano and an eight-foot-tall standing figure of Ellington." 8 And because of his Washington, DC, roots, Ellington was immortalized again in March 2012 by Zachary Oxman, an artist who also sculpted commissioned works for US presidents Bill Clinton and Barack Obama. Titled "Encore," Oxman's twenty-five-foot-tall stainless steel and granite sculpture depicts Ellington in front of the Howard Theatre, seated on a large treble clef while enthusiastically playing piano keys that curve upward into the sky on a music staff. In the words of a CBS reporter in DC, Oxman's monument of Ellington surrounded by music creates "a vortex of melodic energy."9
In contemporary forms of African American Christian worship, Ellington's religious compositions have taken on new life in Holiness-Pentecostal, evangelical, and mainline sacred houses of worship, in addition to liberal religious performances beyond these spaces. Musicians have reworked Ellington's lyrics and musical arrangements, and have even added visual and performance elements to recast Ellington as a sacred jazz composer who authorizes others' religious interpretations of his musical messages. Beyond straightforward "classical" replications of the original music, these new performances of Ellington compositions reflect the religious habits and commitments of the performers. For the We Love You Madly tribute to an ailing Duke Ellington in 1973, Ray Charles and Aretha Franklin reimagined Ellington's "Ain't but the One" by setting his lyrics to the basic structure of their song "Spirit in the Dark." The song not only includes an organ, an electric guitar, and a mass gospel choir behind Charles and Franklin, intimately familiar with the idioms of modern gospel music, but also contains a "praise break" showcasing these two musicians' improvisational spirit. This reworking of the song represented Franklin and Charles as they affirmed the theological content of Ellington's lyrics as sufficiently representative of African American Christianity. However, their version uses the pronoun "He" when referring to God, a pronoun that Ellington's theology intentionally avoided. Coupled with their musical arrangement, which supplants Ellington's as a more authentic representation of modern gospel music that is conducive to Pentecostal worship practices, Charles and Franklin translated Ellington's message into the words and sounds most familiar to the black Christian communities with which they were well acquainted. These changes also simply signal generational and religious differences between musicians. Ellington had not been a church-attending religious person, and his Washington, DC, black Baptist and Methodist upbringing in the black middle class exposed him mainly to African American spirituals, not gospel music. 10
A fundraising benefit produced the album Goin' Home—A Tribute to Duke Ellington/A Benefit for the Duke Ellington Foundation, recorded in 1999 to celebrate Ellington's centennial and released in 2001. Among the prominent artists featured on the album were George Duke (1946 2013), Dianne Reeves (b. 1956), Al Jarreau (1940–2017), Jon Hendricks (1921–2017), Nancy Wilson (1937–2018), Christian McBride (b. 1972), and Gregory Hines (1946–2003). The album included a recording of "Come Sunday" that trumpeter and music educator Burgess Gardner arranged with vocal features by Otis Clay (1942–2016) and Delya Chandler. In this recording of "Come Sunday," however, the following lyrics stood in place of the original third and fourth stanzas:
(Clay) I believe, I believe God is now, was then, and always will be
(Chorus) always will be
(Chandler) With God's blessings, we can make it through eternity
(Chorus) through eternity
(Clay) Lord, dear Lord above, God almighty, God of love
(Clay and Chandler) Please look down and see my people through. (2x)
(Clay) They're all dressed up this morning, they've been working hard all week long, yeah
Glory, Hallelujah, come Sunday, they can take it to God's throne.
(Chandler) If we keep God in our lives, then I know that
Sunday can be every day.
(Clay) Come Sunday, they teach us, to do unto others as you would have them do unto you.
That's the Golden Rule, yeah.
(Clay and Chandler) Please look down and see my people through. (2x)11
These updated lyrics at the turn of the twenty-first century appear to represent a reinterpretation of Ellington's original piece, one that shifts the focus away from simply an appreciation of worshipful black Christian ancestors in the slave era. Instead, they indicate a shift toward a modern sense of God's presence in the everyday, working lives of African American Christians. Sunday is not simply a day of relief from forced toil. Rather, to live every day as Sunday is to carry a sense of God's presence and guidance of the individual's life throughout the work week. And, unlike with Ellington, there is the prospect of an eternal reward for religious devotion (where every day is a Sunday to enjoy God's presence).
The purpose of these revised lyrics is to preach a standard of religious devotion, rather than a musical meditation on divinely guided racial history. And it may not even reflect a religious message about or for just African American Christians—it reflects the approach to living a Christian life that is emblematic of contemporary mainstream American evangelical teachings. Clay, an R&B and soul singer, began his career as a member of a series of gospel groups in the 1950s and 1960s, including the Voices of Hope, the Christian Travelers, the Golden Jubilaires, the Famous Blue Jay Singers, the Holy Wonders, the Pilgrim Harmonizers, the Gospel Songbirds, and the Sensational Nightingales. Clay frequently headlined gospel shows during the final decades of his career.12 And Chandler, an R&B and jazz singer, went on to release a contemporary gospel album, Breakthrough, in 2007.13 Overall, the lyrical changes that Clay and Chandler sang reflect evangelical and "sanctified" commitments to regular church attendance that would not quite match Ellington's own religious sentiments and habits.
A performance of Ellington's Sacred Concert music at Grace Congregational Church of Harlem, UCC, on June 5, 2016, concluded with the performance of "Praise God and Dance." This finale led into the performance of a praise break, echoing the 1973 reimagining of "Ain't but the One" by Charles and Franklin. Damien Sneed, a choral director who has worked with the Lincoln Center Jazz Orchestra on performances of sacred compositions by Ellington and trumpeter Wynton Marsalis, was the pianist for Grace Congregation's Sunday service, and his YouTube page features a recording of the praise break moment. The Songs of Solomon Inspirational Ensemble, directed by Pastor Chantel Wright of Pneuma Ministries, transitioned from singing "Praise God and Dance," featuring the tap dancing solo of Jared Grimes, to the singing of the "war cry" chant with the continued musical accompaniment and antiphonal solos of the jazz orchestra. During the praise break, the choir alternated between shouts of Ellington's original lyrics ("Dance, dance, dance! / Praise God and dance!") and the "war cry." At the conclusion of the praise break, with continued clapping, dancing, stomping, and shouts of "Hallelujah!" from some choir and audience members, Pastor Wright took her microphone and preached the words of the King James translation of John 4:24, "For God is a Spirit; and they that worship him must worship him in spirit and in truth!" She then instructed the congregants to "clap your sanctified hands in here! Come on and open your mouths and give God a praise!" And like Ellington's original scriptural inspiration for his composition, Wright recites Psalm 150 in the cadence of a chanted sermon. After offering her own shouts of "Hallelujah!" and "He is worthy!," Wright exclaimed, "Oh! I didn't know He had planned that! HOSHA! I didn't know that was in the plan."
Aside from declaring that it was God who ordained this musical performance, Wright's glossolalic utterance between these last two sentences serves to indicate that this "sanctified" performance of Ellington's sacred music was, indeed, conducive to invoking God's presence in the Holy Spirit for this Sunday celebration. An African American Congregational–United Church of Christ church could utilize Ellington's sacred compositions to host a moment of charismatic praise and worship. This practice testifies not only to the thorough pervasiveness of Holiness-Pentecostal religious expressions across theological and denominational lines but also to the fact that some contemporary black Christians find Ellington's theological presentation of religious praise to comport well with modern exuberant worship practices. The long arc of Ellington's career and posthumous performances of his music chart the path of responses to his work, starting with derision of both jazz culture and the charismatic "jazz religion" by African American mainline Protestants, then a welcome of his sacred music in liberal white mainline congregations, and finally inclusion in sanctified praise and worship within African American mainline Protestant churches.
The deceased jazz professionals who became race representatives maintain lingering presences in the lives of many. Through sacred archives, institution building, dedicated monuments, performing venues, charitable foundations, exhibits, and online communities, jazz fans have constructed significant physical and virtual landscapes to promote the sustained veneration of departed virtuosos. Jazz education positions have institutionalized recognition and performing opportunities for working musicians. Annual festivals and centennial celebrations arrange time according to sacred chronologies of African American lives within jazz communities. These events compel musicians and music patrons alike to mark their calendars in preparation for concert performance dates and festival pilgrimages to celebrate specific figures like Ellington. Live tribute performances and dedicated studio albums have represented practices of keeping musicians alive by keeping their musical corpuses alive. Embracing and altering the theological messages of sacred works demonstrate practices in African American Christianity of rendering Ellingtonian music conducive to modern praise and worship. The afterlives of African American jazz ancestors rest in the hands, voices, and minds of those who have committed to sustained celebrations of a music tradition that encompasses religious beliefs, practices, and sacred histories of a people.
---
1 Rachelle Blidner, "Jazz Fans Seek Ways to Spend Eternity with Greats," Associated Press,
July 10, 2014, accessed January 4, 2017, http://bigstory.ap.org/article/jazz-fans-seek-ways-
spend-eternity-greats.
2 For Mercedes Ellington's 1939 birth year, see Clem Richardson, "Mercedes Ellington,
Granddaughter of Jazz Legend Duke, Keeps in Step at 70," New York Daily News, June 7,
2009, accessed June 12, 2017, www.nydailynews.com/new-york/brooklyn/mercedes-
ellington-granddaughter-jazz-legend-duke-step-70-article-1.375770. Various sources list
Ellington's birth year as 1949.
3 See Cohen, Duke Ellington's America; Kernodle, Soul on Soul; and Steed, Duke Ellington.
4 Leah Donnella, "Candice Hoyes Sings Blackness, Womanhood and History on Her Debut Jazz
Album," NPR.org, May 23, 2016, accessed April 26, 2017,
www.npr.org/sections/codeswitch/2016/05/23/473814916/candice-hoyes-sings-blackness-
womanhood-and-history-on-her-new-jazz-album.
5 Kory Cook, "From Opera to Jazz: Candice Hoyes's 'On a Turquoise Cloud,'" KTRU 91.7,
Trinity University, May 1, 2015, accessed April 26, 2017, https://krtu.trinity.edu/news/opera-
jazz-candice-hoyes%E2%80%99s-%E2%80%9C-turquoise-cloud%E2%80%9D.
6 Teal, "Posthumously Live," 403.
7 Pinder, Painting the Gospel, 14.
8 Rick Lyman, "After an 18-Year Campaign, an Ellington Memorial Rises," New York Times,
July 1, 1997, accessed February 17, 2017, www.nytimes.com/1997/07/01/arts/after-an-18-
year-campaign-an-ellington-memorial-rises.html.
9 Maggie Fazeli Fard, "Duke Ellington Statue Installed in Northwest DC," Washington Post,
March 29, 2012, accessed February 17, 2017, www.washingtonpost.com/blogs/the-
buzz/post/duke-ellington-statue-installed-in-northwest-
dc/2012/03/29/gIQAf5J1iS_blog.html?utm_term=.e00b8c295437; and "A 10,000-Pound
Statue of DC Native Duke Ellington Has Found Its Way Home," CBS DC, March 29, 2012,
accessed February 17, 2017, http://washington.cbslocal.com/2012/03/29/a-10000-pound-statue-of-d-c-native-duke-ellington-has-found-its-way-home/.
10 See We Love You Madly, television special.
11 Duke Ellington and His Orchestra, "Come Sunday," in Goin' Home.
12 "Otis Clay," Blind Pig—Artists, accessed February 16, 2017,
www.blindpigrecords.com/index.cfm?section=artists&artistid=17.
13 Shon McPeace, "Heaven Sent," Arkansas Democrat-Gazette Online, May 16, 2007, accessed
February 16, 2017, www.arkansasonline.com/news/2007/may/16/heaven-sent/.
Vaughn A. Booker is an Assistant Professor in the Department of Religion and the Program in African and African American Studies at Dartmouth College. Specializing in African American religious history, he is the author of Lift Every Voice and Swing: Black Musicians and Religious Culture in the Jazz Century (NYU Press, 2020).