In our interview series, "Seven Questions," we ask some very smart people about what inspires them and how their latest work enhances our understanding of the sacred in cultural life. For this segment, we solicited responses from Pamela Winfield and Steven Heine, editors of Zen and Material Culture (Oxford University Press, 2017).
1. What sparked the idea for putting this book out?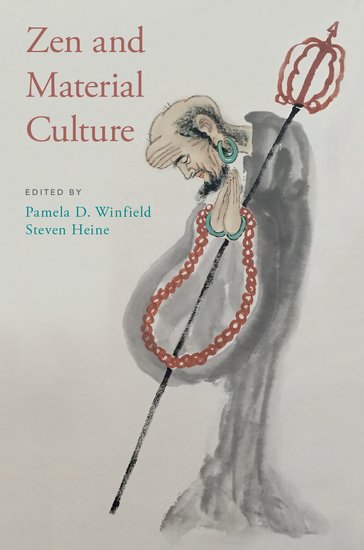 We first discussed collaborating on a volume over ten years ago, but at the time there really were not enough scholars of Japanese Zen Buddhism working on material and visual culture. Our field has been slow to take the 'material turn' of other disciplines, and it has been primarily dominated by textual-philological studies, institutional or biographical histories, and performance and reception-theory based ritual studies. On the other hand, when we looked to other disciplines for inspiration, we knew that Japanese art historical scholarship was traditionally dominated by iconographic, stylistic or aesthetic analyses of canonized masterpieces, rather than the functions of the everyday objects and images that are so central to Zen practice. Finally, the emerging field of visual and material culture studies showcased Japanese contemporary popular culture, but for the most part neglected the material and visual dimensions of Zen, which was still largely perceived as aniconic or even iconoclastic in its orientation. We decided, therefore, that the time had finally come to compile an interdisciplinary group of scholars who could help to fill the lacunae in the literature of these three distinct yet interrelated fields. Our resulting chapters on Zen robes, rags, beads, bowls, buildings, staffs, Chinese imports, abbesses' art, and even 'Zen retail' in America offers a wide-ranging historical and geographical scope that considers Japanese Rinzai, Sōtō and Ōbaku Zen traditions in both male and female lay and monastic contexts.
2. How would you define religion in relation to your work? Where do you see the sacred or sacred things in this book?
This is the key question that our book addresses. In Zen, enlightenment is never distinct from the realm of real phenomena. Mahāyāna Buddhism in general and Zen in particular maintains that all things are already enlightened just as they are, but that we need the discipline of religious practice to realize it and manifest it in our very being. Buddhist awakening or "the sacred," therefore, is not some transcendent rarefied mental state or place. Rather, it is simply an insight into the "suchness" (tathatā) of things and a realization that all things (including the self) are empty of fixed essence and therefore radically interdependent and ever-changing. Because Buddha-nature is located squarely in and as Nature / human nature according to Zen, many of the material objects discussed in the book highlight the functional role that even lowly objects play in the monastic context. A simple cleaning cloth can be an indispensable instrument of daily practice-realization, and a string of 108 juzu beads can symbolically embody the entire Buddhist pantheon of deities. The master's staff and fly whisk are powerful pedagogical articles of authority and authenticity, while monastic buildings marshal all the world's material phases and functions. Buddhist paintings, sculpture, calligraphy, and even reliquary art (using the hair and fingernails of deceased ancestors, for example) immanentize and embody the sacred in figural form. At the same time, however, our book also considers some of the tensions that have arisen historically between Buddhist materiality and materialism: depending on the eye of the beholder, a tea bowl may contain the world in a cup of tea or simply contribute to a tea connoisseur's ceramic collection, and the Zen Buddhist patchwork robe can be a symbol of worldly renunciation or an ostentatious display of golden damasks. Imported luxury goods from China can be construed as either generous patronage or elitist cosmopolitanism, and the contemporary sale of Zen retail commodities delicately balances the ideal of mindful consumption against direct marketing techniques by and for an American Zen monastery. The category of "the sacred" or of "sacred things," therefore, is highly contextualized and contingent upon the perceiver, but in Zen, it never exists apart from them.
3. Can you summarize the three key points you'd like the reader to walk away with when finished?
First and foremost, we hope that our readers come to appreciate the important role that these material objects play in everyday Zen practice and monastic discipline. We seek to break down any lingering stereotypes that construct Zen as a purely meditative, minimalistic, or iconoclastic tradition that somehow lacks the material and visual culture of other iconic Buddhist sects. We hope to demonstrate the tactile materiality and iconic abundance of the tradition, thereby calling attention to the vast range of "stuff" in Zen.
Second, Zen and Material Culture explores the ways in which Zen images, objects, structures, scrolls or other cultural artifacts materialize abstract idea(l)s into concrete form. For example, the kesa robe is not merely a patchwork vestment made of cloth, but also a material marker of invested ideals such as detachment, renunciation, monastic discipline, and the precepts as informed by societal factors. In this way, the volume highlights the feedback loop between concrete particulars and abstract ideals, as things shape ideas just as much as ideas shape things. 
Third, the volume as a whole sheds new light on articles of Zen practice that have significantly advanced its own institutional, sociocultural or political-economic status. This objective indicates the latent financial dimension of Zen matters, and indicates a third predicate sense of Zen matters, which do matter a great deal to past and present practitioners of the tradition and are therefore worthy of scholarly investigation.
4. Who were intellectual models or inspirations for you as you wrote this book?
We are indebted to all of our teachers, mentors and colleagues, but a few scholarly works stand out. John Kieschnick's The Impact of Buddhism on Chinese Material Culture (Princeton University Press, 2003) significantly advanced the study of Buddhist material culture in East Asia, while Fabio Rambelli's more philosophical approach in Buddhist Materiality (Stanford University Press, 2007) also served as an important precursor to our work. Robert and Elizabeth Horton Sharf's book on Living Images (Stanford University Press, 2001) provided a helpful model for interdisciplinary scholarship centered on Japanese Buddhist visual culture, while Samuel Morse's Object as Insight exhibition catalogue (Katonah Museum of Art, 1995), and David Morgan and Brent Plate's work on visual and material religion has also been a great inspiration.
5. What was the most difficult thing about writing the book? Did you encounter any unexpected problems or challenges?
Once we had our contributors lined up, it was just a question of keeping everyone on schedule and meeting all our deadlines for submission, copyedited revisions, and typeset proofs. Behind the scenes we had a lot of time-consuming details to manage, including copyright permissions, compiling the index and glossary of Sino-Japanese characters, double checking Sanskrit, Chinese, and Japanese terms, and other mechanical editing concerns such as consistent diacritical marks, italics, capitals, abbreviations, spelling, endnotes etc. Steve is a lot more practiced at this than I am in having edited or co-edited over a dozen books, so I am grateful for his constant guidance and mentorship. I once joked that Steve's main topic of research, Zen master Dōgen (1200-1253), may have entitled his life's work The True Dharma Eye Treasury (Shōbōgenzō), but that Steve had really manifested the "True Editorial Eye Treasury" with this volume. As lead editor of the volume, however, it is my responsibility to admit that any and all mistakes are my own.
6. What's the most unexpected response, critical or positive, that you've gotten about the book?
Prior to publication, our well-attended panel at the Association of Asian Studies (AAS) conference in 2016 generated a particularly lively discussion about Buddhist fundraising, patronage, and other economic concerns as discussed in many of our chapters. Now that our book has been released, furthermore, we have been pleasantly surprised by the general interest in the topic so far. The Japan Society in New York will be hosting a joint lecture and book signing reception in October, to be moderated by the award-winning author, documentary filmmaker and Zen priest Ruth Ozeki. In addition, ASIANetwork, which is a consortium of Asian Studies programs within liberal arts colleges and universities, approached us about convening a book panel on Zen and Material Culture at their upcoming conference in April, 2018. And now Sacred Matters is helping us to get the word out, so we're quite happy and humbled by all the attention this volume is getting. It's really gratifying to know that our contributors' scholarship will be read and discussed in-depth by those interested in Zen Buddhism, Japanese visual and material culture, Buddhism and gender, economics, lay/clerical relations, geo-historical transformations, and other related topics.
7. With this book done, what's up next for you?
PDW: I am currently working on my next monograph tentatively entitled Zen and the Body: Material and Rhetorical Anatomies at Eiheiji Zen Monastery. After my first book on Icons and Iconoclasm in Japanese Buddhism (Oxford University Press, 2013; AAS-SEC Book Prize, 2015), and after this second volume on Zen and Material Culture (Oxford University Press, 2017), I now want to advance a theory of "Zen bodyfulness" that will put physical and material bodies back into an overly psychologized discourse of Zen mindfulness.
SH: With the publication of recent monographs The Chan Rhetoric of Uncertainty in the Blue Cliff Record (Oxford University Press, 2016) and From Chinese Chan to Japanese Zen (Oxford University Press, 2017), I am now working on Reading Dōgen's Shōbōgenzō (forthcoming with Columbia University Press).
Pamela D. Winfield is Associate Professor of Religious Studies at Elon University, NC. She is the author of Icons and Iconoclasm in Japanese Buddhism: Kūkai and Dōgen on the Art of Enlightenment (Oxford University Press, 2013) which won the fourth annual book prize from the Association of Asian Studies Southeast Conference in 2015. She has edited two themed issues of CrossCurrents Journal, and her numerous articles on Japanese Buddhist art and doctrine have appeared in the Japanese Journal of Religious Studies, Material Religion, Religion Compass and the Southeast Review of Asian Studies, as well as in edited volumes by Brill, Routledge, and Oxford University Press.
Steven Heine is Professor of Religious Studies and History and Director of the Asian Studies Program at Florida International University. A recipient of the Emperor's Award from the Japanese government in 2007, Heine has published over two dozen books and lectured widely on East Asian religion and society, especially concerning the transition of Zen Buddhism from China to Japan as reflected in the writings and practices of the kōan tradition. Heine's recent publications include Zen Skin, Zen Marrow: Will the Real Zen Buddhism Please Stand Up? (Oxford University Press, 2007), Like Cats and Dogs: Contesting the Mu Kōan in Zen Buddhism (Oxford University Press, 2013), and Zen Kōans (University of Hawaii Press, 2014), in addition to edited volumes, Zen Masters (Oxford University Press, 2010), Dōgen: Textual and Historical Studies (Oxford University Press, 2012), and Dōgen and Sōtō Zen (Oxford University Press, 2015).