L. Benjamin Rolsky
Introduction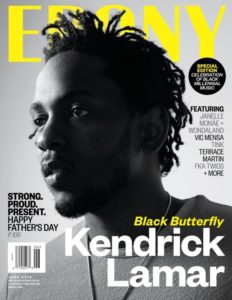 On June 1st, 2015, Ebony Magazine kicked off Black Music Month by publishing its 70th anniversary special issue. The editors decided to focus the issue on hip-hop culture and its contemporary resonances as an expression of "black millennial music" by showcasing how such expressions challenged conventional boundaries between musical genres. The issue's cover image also revealed how the editors decided to represent "black millennial music" to its collective readership as a unique cultural expression of a particular African-American subculture within hip-hop culture writ large. These purposes found their paradigmatic expression in the youthful profile of one Kendrick Lamar, whose expertly lit face revealed an individual distant yet determined to leave his mark on the proverbial game. Along with the names of fellow artists Terrace Martin, Janelle Monáe, and Vic Mensa, Lamar's image encapsulated (or perhaps interpellated) an entire subcultural expression of hip-hop by way of a special issue cover of Ebony magazine.
Lamar captures perfectly the lyrical and spiritual renaissance currently taking place in west coast hip-hop today by some of its youngest practitioners. For Ebony's Vice President of Digital Content Kierna Mayo, Lamar could not have come along at a better time. "He's young, he's fresh, he's hot … he's Ebony."[1] Lamar's reaction to his landing an Ebony cover echoed Mayo's enthusiasm, but he located the significance of his accomplishment in decidedly different terms. "I'm one of a few rap artists to actually grace the cover … they have done a whole spectrum of controversial covers with us as a culture and identifying ourselves and the world in general." For Mayo, Lamar's "hotness" was conducive to the issue's wide dissemination, but Lamar saw his cover as anything but "hot." His presence signaled something novel about hip-hop and its enduring ability to speak to both the highest and lowest levels of American culture and society—from boardrooms to inner city streets to primetime NBA playoff basketball commercials.
In short, Mayo's motto-like description signaled the corporate interest in Lamar while his own words conveyed a different trajectory of artistic accomplishment. The gap between corporate hotness and artistic controversy could not be more noticeable when examined in tandem, but what exactly do these two descriptions tell us about hip-hop, black millennial music, and American culture? Is there anything to this "black millennial music?" And finally, what categorical work is unfolding on the cover of such an esteemed magazine, one that functions as the "curator of the African American experience" for Ebony's Arts and Culture Editor Miles Marshall Lewis?
For Monica R. Miller, Anthony B. Pinn, and Bernard "Bun B" Freeman, these questions are central to another renaissance in-the-making in the study of religion around the subject of hip-hop, rap music, and popular culture. Led largely by Miller and Pinn over the past decade, this renewed interest in the study of religion and hip-hop is a product of discerning methodological reflection, deft application, and finely tuned analysis and research of a subject often overlooked by scholars of religion and American religions.[2] It is in this spirit that I offer a short, contemporary aside on this week leading up to the Grammy's, in order to illuminate two things about our contemporary cultural landscape: 1) a compelling figure in hip-hop today, and 2) our collective efforts to describe (and perhaps explain) his artistic production as "religious" from the confines of South Central, Los Angeles.
A Religious History of Kendrick
Lamar's career in hip-hop arguably began when he was only eight years old. In November of 1995, he witnessed the filming of the music video for "California Love." Watching Tupac Shakur and Dr. Dre perform in his neighborhood made a lasting impression on Lamar (Lamar shot his "King Kunta" video in local Los Angeles neighborhoods including Watts and Compton. This locality is scholastically referred to as the West Coast's "cinematic" style of rhyming). In fact, Lamar claims that Tupac visited him in a dream and encouraged him: "don't let my music die." Lamar later penned the song "HiiiPower" for his album Section 80 in light of Tupac's own philosophy of "Thug Life." Both spoke to the need for minority communities to educate themselves on their everyday surroundings in order to better address the needs in their community. On this level, both artists spoke of a "revolution of the mind," one the descendant of a Black Panther, the other Compton's latest human sacrifice.
Since the release of his 2012 major label debut, good kid, m.A.A.d city, Lamar has significantly altered the landscape of contemporary hip-hop to reflect his own musical and cultural sensibilities- namely those of the newly emergent Black Hippy.[3] He is both different and familiar to the discerning ear, speaking with the urgency of his Watts and Compton predecessors, but in an entirely different linguistic register and archive of inner-city experiences. He is both descendent of hip-hop's greats and future pioneer—still struggling to find answers to life's most difficult questions. Despite the critical acclaim he received for his mixtape (Overly Dedicated) and his first studio album (Section 80), it has only been since his 2012 release that Lamar's popularity has skyrocketed resulting in everything from endorsement deals and commercials with his mentor Dr. Dre to appearances on late night and daytime TV.[4]
The combination of Lamar's bold lyrics and his shy, soft spoken prophet-in-training public persona cultivates a unique relationship with his fans that few are able to maintain over the course of their careers. When discussing his latest performance or "sick" freestyle, fans typically refer to him as "Kendrick," unlike the names of the other members of his Black Hippy group, including Schoolboy Q and Ab-Soul. This familiar articulation speaks to the impact Lamar's music has made on hip-hop in a relatively short period of time by gaining both commercial and critical acclaim. It also speaks to his popularity among "the millennials," an amorphous category that describes individuals born between 1980 and 2000 who, as the largest generation in US history, prefer sharing economies over ownership.[5] If this generation had its own soundtrack, or mixtape, it would more than likely feature the numerous, multi-platinum singles of Drake, who, as one commentator argued, is "the defining millennial hip-hop superstar."[6]
This may indeed be the case, but like hip-hop itself, which stemmed commercially from both Sugar Hill Gang's "Rapper's Delight" and Grandmaster Flash's "The Message," perhaps Drake and Lamar represent two different but interrelated artistic trajectories within the same generational genre of millennial hip-hop—one known for speaking in the language of tweets and status updates, the other for interrupting the party music with a diverse array bangers, head-nodders, and head-scratchers. Lamar's second offering, To Pimp a Butterfly, is another example of his lyrical dexterity and willingness to experiment with form and content. It is also so undeniably "black" that it became virtually illegible/unintelligible to a vast segment of his audience, with sentences such as "Kendrick Lamar's Unapologetic Black American Dream" grabbing headlines.[7] If Drake helps us get past the guilt of success and celebrity, then Kendrick reminds us that success is a product of a collective effort and not an end in itself—regardless of who you are. It is this message, this ethos, that I wish to probe here in light of its millennial character and its religious tonalities as a subject of religion and hip-hop.
Not only are millennials more likely to be part of "sharing economies," but they are also less likely to demonstrate traditional brand loyalty to items typically purchased in the marketplace. Lamar's own self-identification typically does not rely heavily on his home state of California. In fact, when pressed about being a "West Coast artist," Lamar politely rejects such categorizations in favor of making "good music" or "human music" for his fans. For one commentator, Lamar's attraction to contemporary art and disinterest in representing particular "sets" qualifies him as an "indie artist," one who is willing to experiment with instrumentation, lyrics, and other indie artists white or black.[8] Many of Lamar's current musical influences, as well as those of his producers, come from bands such as Sonnymoon and Fleet Foxes.[9] In fact, much of the Black Hippy music currently in popular demand would not exist without the intricate producing, beat-making, and engineering of Lamar's in-house team of MixedbyAli and Digi+Phonics.[10]
Lamar is a part of and more importantly aware of the classic tropes and artists of Southern California gangster rap, but he is anything but beholden to them. For his fellow Black Hippy rhyme-spitter Ab-Soul, "They wanna see me wearing Polo drawers/Put two chains on and that ain't wrong/But that ain't me, I go too damn hard/I don't need clothes or jewelry to stand out/Black lip nigga with his hair wild."[11] Lamar shares this mindset by reinterpreting the legacy of Compton for a new generation of fans according to the slow roll of the six-four and not the guns, bats, and obscenities of NWA. For chairman/CEO of Interscope Records John Janick, Kendrick possesses a most unique ability in this regard– "Kendrick pulls culture toward him. He doesn't mirror it."[12] Lamar's gravitational pull does not go unrecognized by him or his fellow Black Hippies. The sheer number of adjectives and labels used to describe Lamar's contemporary impact, including prophet, preacher, and yes, "rap Jedi," speak to his demeanor as a humble pilgrim eager to learn more about the things that ail his community.
In his music, Lamar often assumes the voice of the Psalmist as an individual lament, as heard in a recently released single by California hip-hop artist Ty Dolla $ign simply titled, "LA": "God, let me right my wrongs/God, let me write this song/God in the middle with a mark let me hit a pawn shop, momma said we need a loan/God, let me dedicate this to the 80% that ain't never coming home/God, let me know you exist in a city where a hundred hollow-tips get thrown."[13] Lamar's voice is one heard in the post-industrial wilderness, a good kid doing his best to lead by example and make his ancestors proud. Much of this work takes on a "religious" quality as he begins to speak with various Christian images and turns of phrase as a reflection of his confessional claims. He may also be deploying these images and themes in order to accomplish something larger such as identity formation and/or cathartic release amidst numerous epistemic and systemic constraints on poor, black life in the land of Pharaoh. In this sense, we are presented with two analytical projects that differ widely, yet are not mutually exclusive: description and explanation.
Lamar's laments have been a consistent trait of his music since Overly Dedicated (2010). The last track on the album, "Heaven & Hell," systematically lists what ills the US and the world including child molestation and lying preachers. In the best tradition of speaking prophetically in a foreign land, Lamar considers these conditions "hell on earth." On Section 80, the song "Kush and Corinthians" finds Lamar struggling with his state of mind as someone who is "good, bad, a Christian, and a sinner." His first commercial success, good kid, m.A.A.d. city, is literally bookended by the story of his coming to Jesus through an aunt or grandmother by reciting the Sinner's Prayer. On To Pimp a Butterfly, Lamar runs into a homeless man on "How Much a Dollar Cost" and eventually learns that a dollar costs one's spot in heaven as the old man reveals himself to be God, an expression of the "nerve of Nazareth."[14]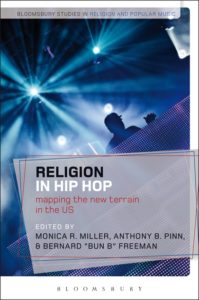 Sometimes Lamar even trips over his own words in anticipation of what he'll say next. "Goin' crazy in your head is wanting to say so much, but you can't. I think it comes from my struggling relationship with God — my whole life, I go to sleep every night and just think about God…Is that a trip? That's me trying to find myself in a relationship with Him."[15] In an interview with Billboard Magazine, Lamar revealed his trepidation about his surroundings in light of the killings of Michael Brown and Trayvon Martin, "We're in the last days, man — I truly in my heart believe that," he said. "It's written. I could go on with Biblical situations and things my grandma told me. But it's about being at peace with myself and making good with the people around me."[16] Lamar's words may indeed be best understood through a method that foregrounds uses or functionality over content, but to read these words is to build an archive for millennial religiosity and spirituality in the twenty-first century through a nearly ubiquitous art form and commercial industry—hip-hop. How best to study this phenomenon, and its relationship to religion, is the sole purview of the aforementioned Pinn and Miller text, Religion in Hip-Hop: Mapping the New Terrain in the US.
Parts of this two-part series originally appeared in a longer version for HNet Reviews AmRel in 2015. For more information, please click here.
L. Benjamin Rolsky received his PhD from Drew University in American Religious Studies. His research and teaching interests include religion and politics, the study of popular culture, and critical theory. Rolsky is currently completing a manuscript entitled ,"Norman Lear and the Spiritual Politics of Religious Liberalism," which is under contract with Columbia University Press. Once complete, he plans to begin research on a second book project that examines the history of the Christian Right across the 20th century. You can learn more about Benji by visiting his website at benjirolsky.com.
[1] http://theboombox.com/kendrick-lamar-covers-ebony-magazine-june-issue/
[2] Tricia Rose, Black Noise: Rap Music and Black Culture in Contemporary America (Middletown, CT: Wesleyan University Press, 1994); Anthony Pinn, Noise and Spirit: The Religious and Spiritual Sensibilities of Rap Music (New York, NY: NYU Press, 2003); Monica Miller, Religion and Hip-Hop (New York, NY: Routledge, 2013); Monica Miller and Anthony Pinn, The Religion and Hip-Hop Reader (New York, NY: Taylor and Francis, 2014). In addition to these salient texts, I would also add the following in order to fill in remaining historiographic gaps: William Eric Perkins, Droppin' Science: Critical Essays on Rap Music and Hip-Hop Culture (Philadelphia, PA: Temple University Press, 1996); Michael Eric Dyson, Between God and Gangsta Rap: Bearing Witness to Black Culture (New York, NY: Oxford University Press, 1996; Eithne Quinn, Nuthin' but a "G" Thang: The Culture and Commerce of Gangsta Rap (New York, NY: Columbia University Press, 2013; Imani Perry, Prophets of the Hood: Politics and Poetics in Hip Hop (Durham, NC: Duke University Press, 2004); L. Benjamin Rolsky, "Bishop Lamont and the Hermeneutics of Play: Hip Hop, Religion, and the Study of American Religious History," Bulletin for the Study of Religion 40:3 (Sept 2011), 9-15; Josef Sorett, "'Believe me, this pimp game is very religious': Toward a Religious History of Hip Hop" Culture and Religion 10:1 (2009), 11-22; Josh Sides, "Straight into Compton: American Dreams, Urban Nightmares, and the Metamorphosis of a Black Suburb," American Quarterly 56:3 (Sept 2004), 583-605.
[3] By "Black Hippy" I mean both the group that Lamar is apart of and the cultural phenomenon that it attempts to describe for scholars of religion and popular culture categorically speaking. This piece was also composed before Lamar officially released his most recent album, DAMN
[4] Such popularity has continued with the release of DAMN.
[5] For more, see the charts and graphs here: http://www.goldmansachs.com/our-thinking/pages/millennials/
[6] For more, see http://grantland.com/features/drake-new-album-was-same-millennial-rap/
[7] http://www.salon.com/2015/03/18/to_pimp_a_butterfly_kendrick_lamars_unapologetic_black_american_dream
[8] http://www.complex.com/music/2010/12/indie-intro-5-things-you-need-to-know-about-kendrick-lamar/hes-into-contemporary-art
[9] http://pigeonsandplanes.com/2012/10/check-out-this-indie-pop-act-that-worked-on-kendrick-lamars-new-album/
[10] http://www.complex.com/music/2012/11/25-new-producers-to-watch-out-for/digi-phonics
[11] Ab-Soul, "Illuminate," Control System (2012).
[12] http://www.billboard.com/articles/news/6436268/kendrick-lamar-billboard-cover-story-on-new-album-iggy-azalea-police-violence-the-rapture
[13] Ty Dolla $ign ft. Kendrick Lamar, "L.A." Released by Taylor Gang Records, Pu$haz Ink and Atlantic Records. November 13, 2015.
[14] http://www.buzzfeed.com/reggieugwu/the-radical-christianity-of-kendrick-lamar#.grqx0KPZa
[15] http://www.laweekly.com/music/born-and-raised-in-compton-kendrick-lamar-hides-a-poets-soul-behind-pussy-and-patron-2168759
[16] http://www.billboard.com/articles/news/6436268/kendrick-lamar-billboard-cover-story-on-new-album-iggy-azalea-police-violence-the-rapture