Madison Tarleton
The need for sacred space—a physical home for religious congregations to meet and gather— is rapidly declining. Some religious groups have chosen to rent space from larger churches—a welcome financial assistance for large congregations with extra space and perhaps a decreasing congregation size. Religion, per se, is not dying. Many would argue quite the opposite, but the need for stained glass lined worship halls and multi-use family and functional spaces has not struck a chord with younger generations. While traditional religion remains, many of the structures that once housed early 20th century congregations have become smaller parish churches; and some have been left untouched, waiting for a bright-eyed brewer ready to renovate the once sacred space. The brewer who opened The Church Brew Works in Lawrenceville, Pennsylvania, a historically rich town that lies on the outskirts of Pittsburgh proper, had the vision to take a once vibrant church and create a craft beer haven.
Having visited The Church Brew Works more than a few times myself, questions of space and sacrality began to rise. I wondered how the innovative mind behind such a unique and beautiful space saw, if at all, the intersection between sacred space, sacred place, and beer. The church-turned-brewery phenomenon has roots in the 1970s—much earlier than many would anticipate. The Abbey in Atlanta opened in the 1970s but closed in late 2001. Since then, breweries have rooted and established a home base in old churches, spaces that have a European history of beer and religion but also provide an atmospheric draw for passersby. Closed churches have since been converted to venue spaces, night clubs, restaurants, and breweries, providing an intersectional smash between secular and sacred.
Sean Casey, the founder and president of The Church Brew Works, has an amazing story to tell not only about Brew Works but also his relationship to church history, churches and beer. Sean and I had a conversation that culminated with his asking: "What do you mean by sacred?" Over the course of our hour-long conversation, Sean continued to dig deeper into questions of sacrality and space. I intended to uncover if and how the space continued to feel sacred despite it being a brewery. Sean, with good humor, pushed back and suggested that, because of the history of churches and beer, how could it not? Where I saw a divergence from traditional sacred church space, Sean saw a centuries old relationship between brewing and sacrality reunite. The sacrality of the space may be ultimately in the eyes of the beer-holder. 
How did you decide to establish a brewery in a church?
Sean suggested two main reasons for establishing Brew Works: history and location. The history of churches and beer date to the Middle Ages in Europe. Thus, the seemingly hipster-chic idea was not novel; quite the opposite, Sean remarked. When planning first began for Brew Works he felt the overbearing presence of American culture deeming the co-mingling of religion and beer an unholy union. Unlike early European brewing, monks and priests actively brewed and fermented beer and wine in the church to cultivate a healthy parish. Beer and wine were more sanitary alternatives to potentially unclean water. The parish community would bring ingredients to the church and the church would then make and distribute the resulting beverage to the parishioners. The historical precedent of beer and church coupled with a conservative, American brand of Christianity tempted Sean to move forward with this project. What seemed an unholy union to the more conservative Christian groups, was an all too familiar reunion of hops and holiness.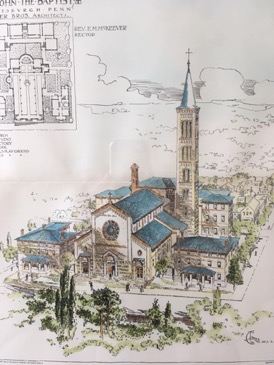 An alternate reason for establishing Brew Works was location. Lawrenceville had a sizable decrease in population over the last 100 years. When populations shrink, parishes follow. Churches became repetitive between catholic communities, and eventually, the redundancy of Irish-Catholic churches, for instance, became too much work. Pittsburgh has always been an ethnically diverse city and religious communities followed similar patterns. People divided and established churches not based on a shared Catholicism but on a shared ancestry, whether that be Scottish, Irish, or German. Each ethnic-Catholicism had their own church, and they lived, socialized, and educated their children around their communal, religious, and ethnic hubs. As Pittsburgh evolved, and the old iron and steel factories became an outdated safety risk, Lawrenceville had an exodus of people. Left with too many churches and not enough people, Lawrenceville still needed religious schools. The Church Brew Works, formally known as St. John's the Baptist, closed its doors in 1993—a long hold-out after the flight of people from Lawrenceville.
Sean's knowledge of Pittsburgh history and religious history of the church allowed him to make an informed decision about location, memory, and historical past when originally establishing (or considering establishing) the brewery. Many of the buildings in this little town remained empty shells of once vibrant churches for many years. Sean saw a way to reignite the Lawrenceville flame by establishing what he called an "intradestination" in Lawrenceville—a place where people would come to socialize but also had easy access to the downtown attractions. Despite the lack of public transportation, Sean still envisioned an island in the sea brewery. Brew Works would be easily accessible by car, have ample parking, and those visiting could get anywhere within fifteen minutes. The inherent natural beauty of the building trumped any hesitations and reservations Sean had about establishing his brew-island in the Steelers' Sea.
Sean, can you explain the church history and evolution?
St. John the Baptist Roman Catholic Church was built in 1902. It was the second church for Irish/Scottish Catholics and provided more space for the growing community. In 1907, the school and convent were built, and in 1923 the rectory was built. Sean began to look in Lawrenceville because of the architecture around this once thriving immigrant community. In 1902, the area was predominately Irish-Catholic. The Beezer brothers, who had a thriving architecture practice in Pittsburgh, were responsible for several churches in Western Pennsylvania—including St. John the Baptist Roman Catholic Church. The church was originally designed in a Romanesque Revival style for the thriving Irish Catholic Community.
During the 1940s and 1950s, a new wave of immigration transformed Lawrenceville to an Eastern European Catholic haven. The Eastern European culture began to dominate the towns' cultural landscape and with that brought intermarriages between ethnicities. The church, even in its nearly 100-year reign as a religious site, underwent several changes, both architecturally and culturally. The church finally closed its doors in 1993, just shy of 100 years after its inception.
After the 1993 closure, the town of Lawrenceville became a real estate hot bed. It had affordable prices mixed with plenty of empty space. At the time, Lawrenceville was a sleepy town with an older, retired population and little remaining vibrancy. The first location Sean scouted was an old fire hall but parking was a concern. Once Sean drove by St. John's, he quickly dreamt up a European pub themed brewery. The fusion of good price, location, parking, and architecture sealed the deal for Sean Casey.
Now that we have covered the building and the original communities, let's talk about sacred space, religious resonances, and brewing as a historical, religious homecoming.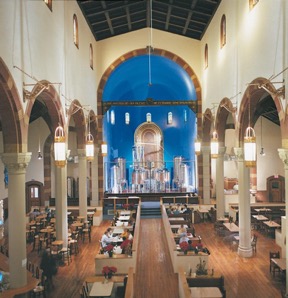 The process of licensure took about two years. The project for Sean began in 1994 with a purchase and opening in 1996. Bishop Wuerl, Cardinal Wuerl in D.C., issued an official decree of parish suppression. Within official Catholicism, the building was now just a building. It was officially removed of its religious role and purpose, and it is no longer recognized in the Catholic Church a site of religious practice or sacred space. The building, despite the tanks and tables, still feels spiritual to many visitors because of the design, architecture, and original stained glass windows. A converted altar in the front flanked by a choir loft in the back remind those who enter that the space has history. It is what they do with that history, Sean says, that makes it feel sacred or not.
The brewery has now occupied the space for over twenty-two years and each person who enters has a different feeling of reverence or reservation. The individuals who walk through the large wooden doors of Brew Works have "already formed an opinion of the space prior to entering," Sean remarks. "They already understand their comfort level and handle that in their own way." Religion and spirituality, Sean says, "are different words to express similarities and differences between perceived 'traditional' religion and something 'looser.' However, one person's spirituality and someone else's religiosity really do not matter in a space like this." Beauty, much like sacrality, is in the eye(s) of the beer-holder, and some people find religious significance in the space and others do not. "There are so many factors," Sean says, "that bring people into the space." Often, priests come in to enjoy a beer at the bar. Father Paul, who was active with the church before it closed, used to come in after he sold the building. 
During the early years of the brewery's life, Sean did have some push-back.
However, because he was one of the first to "re-vitalize" the brewery-church movement, it quickly subsided. In many ways, Brew Works was a religious homecoming. Beer and the church have had a long, outstanding history. Monks as brew-masters and wine with communion aside, the Church's consistent conversation about alcohol and religion has kept the issue more than alive. Within the last century, Christian denominations ebbed and flowed, splinter groups formed, but alcohol in the church and alcohol and the church were always topics. While rarely at the center of a denominational divide, the Church's view on alcohol and consistent voicing of opinion has only deepened lay conversations about what it means to think about sacred space, alcohol, and the church.
Over the course of our conversation, Sean continued to ask, "what do you mean by sacred?" Sean said that working in this type of space has made him aware of the implications of certain words and phrases. He finds himself constantly asking for writers and researchers to clarify their personal definitions for him so he might meet them where they are. Words like sacrilegious, sacred, suppression, and de-sanctify mean different things to so many people and, without clarification from the writer, he has trouble finding footing. Sean shared that he has a religious terminology dictionary with him (almost all the time) to look up church-specific and religious-specific terminology. He understands the importance of correct terminology and is careful not to misuse religious words.
Sean stated that the Heinz 57 religious landscape of Pittsburgh perfectly described his upbringing as well as the way he has allowed his own family to flourish. The religious bloodlines in Pittsburgh run as deep as the city's love for the Steelers. For this reason, the church space that Brew Works inhabits is not sacred or profane for Sean. It stands as a beacon of religious intermixing that made Pittsburgh what it is today. Everyone brings their own ideas, backgrounds, and upbringings into the shared space to create a unique community of beer-drinkers. What was once religious specific, is now community specific; what was once a parish, is now a pub. Is this sacred space? Is it profane space? For Sean, beer in a church is a historical religious homecoming. He has blended European history with Pittsburgh religious and ethnic co-mingling to create a space for the religious and non-religious alike to sit, drink, and be merry. Sacred space, religious space, and sacred sites remain a religious scholar's greatest mystery. Through my conversations with Sean, I realized that the categorization of these ways of understanding space and religious dynamics only run so deep. The humanity of it all suggests that we feel, see, and understand space in our own ways—something that Sean cultivates through his Lawrenceville brewery. Each person brings with them their own religious baggage—good or bad. Breweries and baptismal fonts, hops and holiness, steeples and the Steelers; The Church Brew Works reminds beer drinkers and churchgoers alike that sacred space is relative, person-specific, and geographically or ethnically bound in many ways. 
Madison Tarleton is a graduate student in the University of Denver & Iliff School of Theology's Joint Doctoral Program in the Study of Religion. Her work intersects religion, media, and antisemitism. You can follow her @madisontarleton